Digital Print & 3D Sticker
From the motif to the finished sticker
Almost all products can be personalized with stickers. Der integrierte NFC Chip sorgt hier für die Verbindung zur digitalen Welt.
In production, we can produce a wide variety of NFC stickers, whether high-quality two-color stickers by laser engraving or the premium Visdome
®
3D Sticker, just tell us your requirement.
There are a few things to consider in advance, such as whether the sticker should work outdoors and be durable, or if it will be stuck to metal surfaces. We are also happy to accommodate individual wishes in terms of sizes, shapes and colors.
With the digital printers it is possible to place your logo in perfect color quality on the products together with an NFC chip. Simply as a sticker or perfectly staged for rollups, trophies and much more.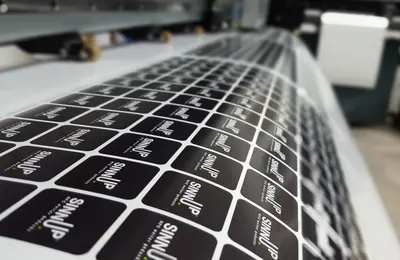 The classic sticker, here an NFC tag is incorporated into a doming mass resulting in a sticker with a cool 3D look. Ideal also for outdoor applications, durable and weatherproof.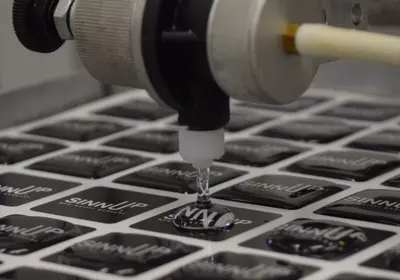 There are a few things to keep in mind when producing NFC stickers!
NFC stickers can open up many possibilities. However, in order to really enjoy it, a few important things need to be taken into account when buying it. Above all, the surface to which the sticker must later be stuck is crucial. If it is made of metal, for example, a special shielding foil must be integrated so that an NFC chip can be read.
Whether the sticker is positioned indoors or outdoors is decisive for the adhesive strength. Cut and size can be selected individually. However, in order to be able to design stickers cost-effectively, it makes sense that the NFC inlays from the standard range with the sizes diameter 22mm or 12x19mm can be accommodated. The larger the NFC inlay, the stronger the reception during reading.
Advantages of NFC 3D stickers