NFC and trade fairs, the measurable trade fair stand
Whether you design your trade show booth interactively with digital highlights to offer visitors a "wow effect," sweeten the wait for an advisor when there's a big crowd, or use the technology as a trade show visitor with NFC business cards – the added value is there in every case. The frequency and the conversations held at your booth can be measured with NFC technology – without much extra effort. Just hold the business cards to your NFC-enabled device before handing them out – that's it.
Digital information platforms at your trade fair stand
Rollups at trade shows are nothing new. However, if visitors can start product videos on their smartphones via the rollup or view products in other variations that are not on display, this will have a positive effect on the number of visitors to the booth. Finally, visitors can also obtain information themselves. Or if the consultant is busy at the moment, visitors can get information about the product in advance and stay at your booth. This also works by means of NFC stickers directly on the products or by means of NFC infoboards.
Visitors don't want to lug mountains of catalogs through the exhibition halls. Anchor your company sustainably with customers by handing out a small gift with integrated NFC chip. A digital trade fair bag, so to speak; you can store product data sheets, contact data, videos and much more on it and the customer still has the opportunity to examine the material at leisure at home.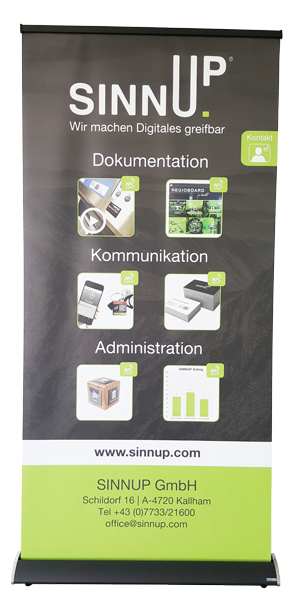 Does everything always have to be so serious?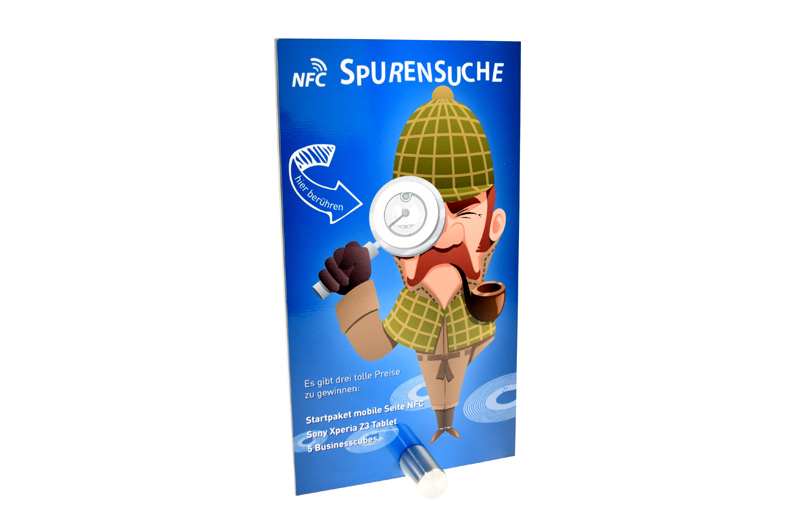 Leak contacts at trade fair
Do you visit several trade fairs per year and want to draw conclusions about how relevant the contacts really are?
For this purpose, use NFC business cards and assign the respective bump, which you carry, to a specific trade fair. On the one hand, you can save various information next to the contact data and on the other hand, the statistics show which business cards were actually scanned with the smartphone. The evaluation says something about the success of the respective trade fair.