Edit NFC tags yourself - easy with onetouchlabel
Touch an NFC tag with your smartphone and it can be linked to a website, phone number, images and text.
Easy as pie and also possible without APP.
How to edit your onetouchlabel NFC sticker
Unlock your screen and touch the NFC sticker with your NFC-enabled smartphone. Depending on the model, the NFC interface is installed on the back, on the rear camera or on the corners. The NFC function must be activated, of course. As of IOS 11, Apple also supports the NFC function.
Fill NFC sticker with content, e.g. link to it
Done – The onetouchlabel is coded and can now be used by anyone.
Examples for the application of the onetouchlabel LINK
Reorder consumables with a tap – it's easy with the onetouchlabel order sticker. Place the link to the product from the web store on the NFC sticker or store the phone number, tag the product and reorder directly: The search, where the desired product comes from is no longer necessary. You can also simply put your favorite Spotify playlist on the sticker and stick it in the car, for example, and with a touch of your smartphone your music will start.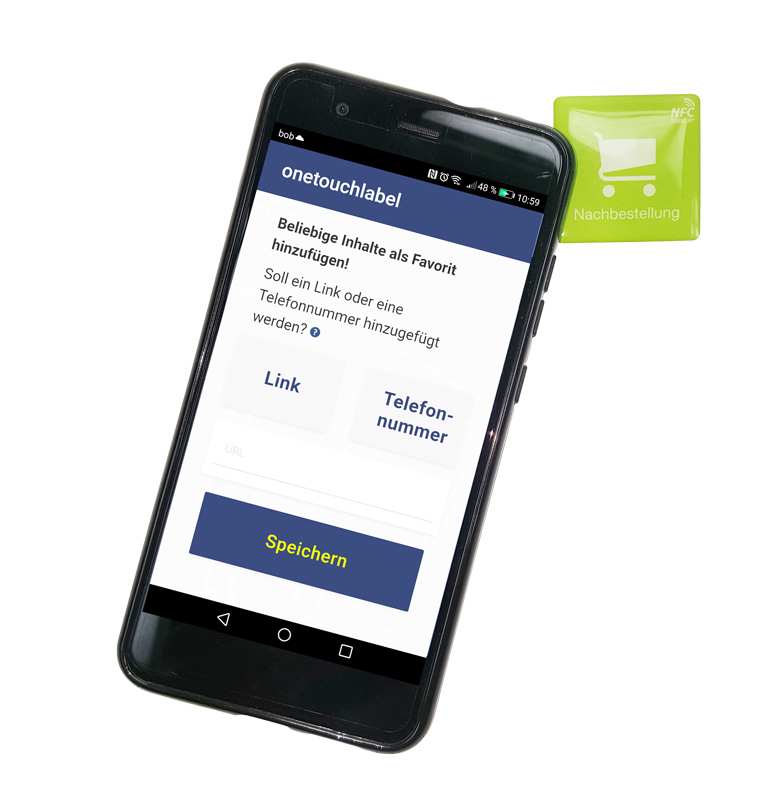 Configure onetouch label with images and product information
A trophy connects memories of an event. Link the photos of it directly to the award, years later joy comes. The photos are stored directly on a haptic reminder, these do not have to be searched for in a filing cabinet.
Another practical example for dealers is the onetouchlabel service sticker. The invoice is stored as an image together with the dealer's contact details on the sticker, which is affixed to the purchased device. In this way, the customer can contact the dealer directly in the event of service and also has the invoice number for the warranty directly at hand.
Each URL is automatically checked, so if there are any suspicious circumstances, the forwarding can be blocked. Unlike the QR code, NFC tags are not modifiable, as they cannot be pasted over or changed. Uploaded images can be protected by password. In addition, each link can be secured via a security code.