You do not always have a suitable coin for a shopping cart at hand? Then you will be like many others. The solution is a shopping cart solver that is always on hand. Meanwhile, many know the variant of plastic or metal, which are often placed in the purse or car. However, SINNUP now shows that it also works with fancy woods. Wood is a natural material that is pleasant to the touch and can be nobly customized with laser engraving. Due to its grain, each piece is unique. A wooden shopping cart release benefits from exactly these properties. The shopping cart pushers offered here are available in oak, maple, walnut and cherry. These are exclusively raw materials that we buy for you from the region. They are all specially multi-layer pressed for good durability. The wooden shopping cart release comes in either a rounded shape or narrow cut. Both variants have to the part that is put in the cart still a handle that stands out. This makes insertion and removal much easier. Chips that you can no longer get out or fall on the floor are thus a thing of the past. Your company logo or a corresponding advertising message is burned into the wood by laser engraving. This way, your promotional gift will cut a fine figure on your customers' keychain for a long time to come. Together, you get a fully finished design for a practical giveaway that your customers will carry around for years to come. A selection of different models can be found here in the store.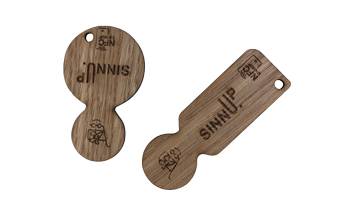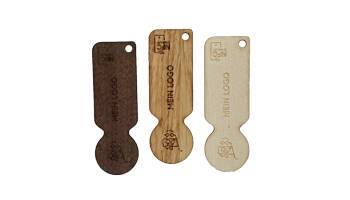 A technical sophistication inside the shopping cart cart
Your newly purchased wooden shopping cart release can convey much more information than "just" the logo. Inside, if desired, a small chip is attached that contains, for example, a link, opens an app or conveys other digital messages. This link to the Internet can then be read out using Near Field Communication technology. It is enough to stop a smartphone at the NFC shopping cart release. Electromagnetic induction is then used to bring the chip to life and the contents can be read. For example, a browser that displays a web page opens automatically. Or a document retrieved from a server. With the NFC shopping cart release, the customer thus receives up-to-date information such as brochures or product documents at any time. In addition, if the server is configured accordingly, he will receive the content on his device in the language he has set. This digital added value of an NFC shopping cart shopper opens up even more advantages for you and your advertising strategy. The individual queries are summarized by the servers in statistics. You get a real-time breakdown of how often and when a piece of content was accessed. This metadata can then be used and evaluated to analyze your advertising campaigns.