The first ever DAY OF IDEAS by ebets® and SINNUP® was a complete success. A day full of many positive impressions, personal exchange between business partners in a relaxed atmosphere and of course plenty of new ideas. More than 150 interested visitors were informed about the latest innovations in the advertising industry by 33 brand partners who exhibited throughout the building. The insight into ebets®' in-house production also amazed both guests and suppliers. Besides many haptic and digital novelties, our clients were spoiled by the "taste shepherds" with excellent burgers from the food truck "gauchos del gusto".
Not only for information directly from the manufacturers, but also for the exciting technical lecture "Your brand lives! Fascination as a Success Factor & Economic Factor" by speaker Bernhard Kloucek, followed by a question and answer session, was attended by many interested people. Those who still wanted to let off steam after the extensive round through the supplier stands had the opportunity to do so at the baseball stand.
Invitation management and digital trade fair bag
For the first time, SINNUP® used digital invitation management with the digital trade fair bag. Already in advance, the invitation and registration for the DAY OF IDEAS was sent automatically by mail. Registered customers were registered with us in the system and a personal profile was created for each guest for the digital exhibition bag. Additionally, each exhibiting supplier was able to provide relevant information for their potential customers.
When arriving at the DAY OF IDEAS, each guest then received his or her own digital exhibition bag in the form of a high-quality NFC wooden ruler.
This enabled visitors to download information about the exhibitors' products and services directly onto their rulers at the stands, making it easy to take them home without having to lug heavy catalogs around. The aid for this is NFC technology. The chip built directly into the wood in the ruler is activated by stopping at the built mobile devices at the supplier and the information from the cell phone is transferred to the chip in the ruler. Using a smartphone or an NFC-enabled tablet, the information can then be easily retrieved from the digital trade show bag.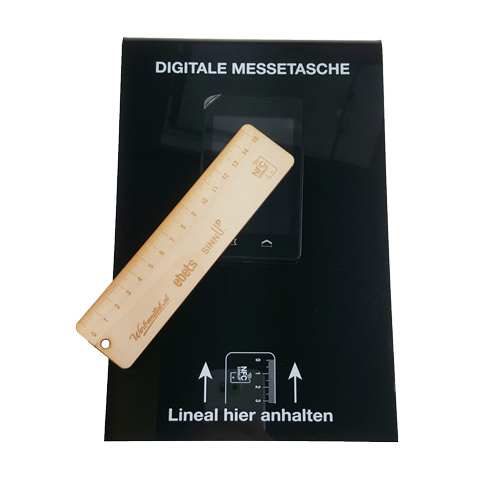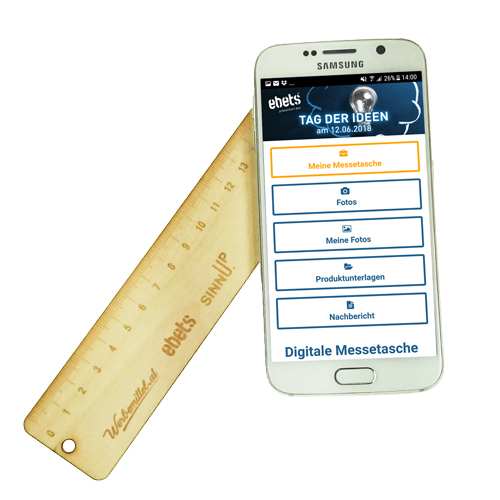 Other major advantages of the digital information on the trade fair bag are the simple forwarding of data within the customer's company and the clarity of all participating exhibitors on the DAY OF IDEAS.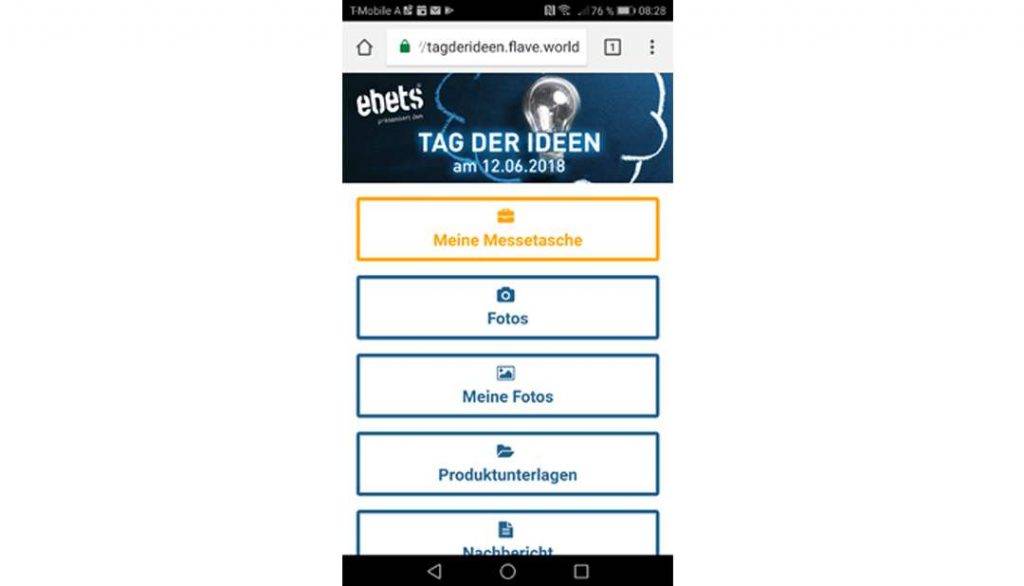 As an additional highlight of the digital trade fair bag, in addition to the dealer information, own photos could also be tagged directly at the event.
In this way, each guest retains his or her personal impressions of the DAY OF IDEAS.
It was an all-round successful day for everyone and we are already looking forward to the next DAY OF IDEAS by ebets® and SINNUP®.