We say yes – but in many cases only if it can do more than just import contacts.
In older articles, the topic of NFC business cards has already been discussed. Today, it's all about what additional features I need to add to the card to make it worth the extra cost compared to a normal card.


Of course, the basics should be given, i.e. the core function is to save contacts as vCard. Ideally, the data remains changeable for later updates, i.e. an online variant. The feel is also crucial, high quality paper or a paper wood composite combination naturally make an impression. If you can then call up information with your smartphone, you can quickly amaze your counterpart.
But surely that can't be all? No, of course not. With the NFC Business business card you have the possibility to manage the content yourself via an initialization link. The map combines innovation and tradition. Business cards have become an indispensable part of the business world, even in the digital age – combining the digital with the haptic world appears to be an innovative approach here.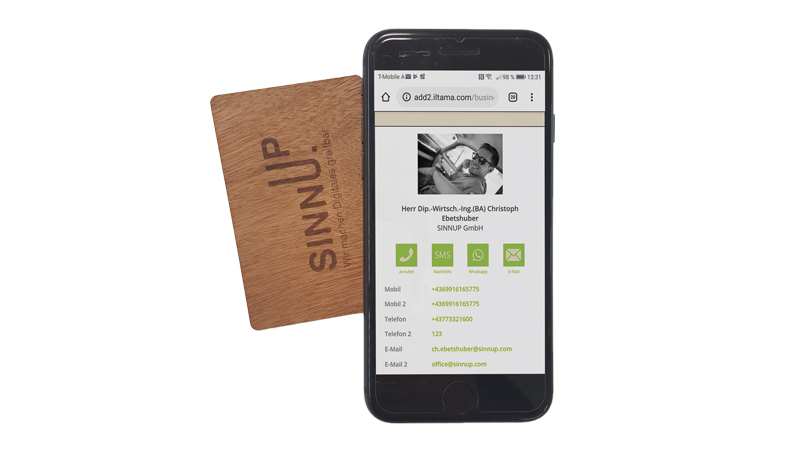 Application example trade fair with the NFC business business card
If I go to a trade show where the cards are handed out, I add my company presentation, price lists and a product video, for example. The photo can also be integrated without any problems, so you will quickly have a picture of the contact person in your head again and can remember better. What is also practical are the icons, which directly lead to social networks, mail, Whats App, etc. and not to be disregarded is the navigation. Are you on company vacation right now? This can also be easily communicated via the Business Card. In principle, it's up to you what you do with the card and what information you want to share.
Divide your cards into different batches and store different information. Each batch can of course also be tracked in terms of how many times the card has been read. You quickly have an overview of the events that best meet your target group.